If you write, blog, maintain a website, work with social media or publish magazines you know there is a constant demand for pictures to match content or graphics to express concepts. Sometimes what's needed can't be found while cruising microstock websites loaded with millions of similar photos. Maybe you need something outside the box now and then. You could be writing an article on intelligent life outside of our solar system and now want a humorous depiction of someone getting sucked up into a spaceship? Who knows right?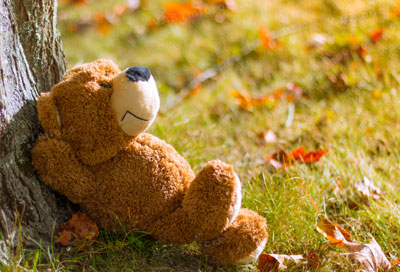 Or maybe you want to post about taking time to relax and love teddy bears. Wouldn't it be cool to have a teddy bear sitting under a tree relaxing? Oh, man I think I have that already!
Stock sites normally reject these types of photos because they're not generic enough for a mass audience. Stock is all about, well… stock. Microstock companies amass millions of generic pictures in the hope someone will want to pay for a license some day. However, those generic pictures may not allow you to express your concept or idea. That's when you need to either create it yourself or enlist the help of someone who can create it for you.
I offer basic photography and graphic design services to help my clients convey meaning, intention and concept for their purposes. When I receive a request a draft is created then proposed based on what was described. If needed modifications are made and then the work is finalized, licensed and put to use.
Why graphic design?
Sometimes a single photo or illustration doesn't say a thousand words, at least not about your idea. In cases where a single photograph can't be used, is unobtainable, non existent or just unrealistic to achieve, multiple photos can be combined into one in order to express an abstract meaning, a direct concept or humorous representation. For example, say you came to me and said I really need to tell a story about a bunch of duplicate human beings chasing someone. Like the Matrix.   I would take several photos of a single location with one person in different places then combine them into one scene.
For this particular example I'll use 12 pictures of a hallway each with me standing in a different place doing something unique. Lets call this the Agent Smith collage, in honor of the Matrix movie 🙂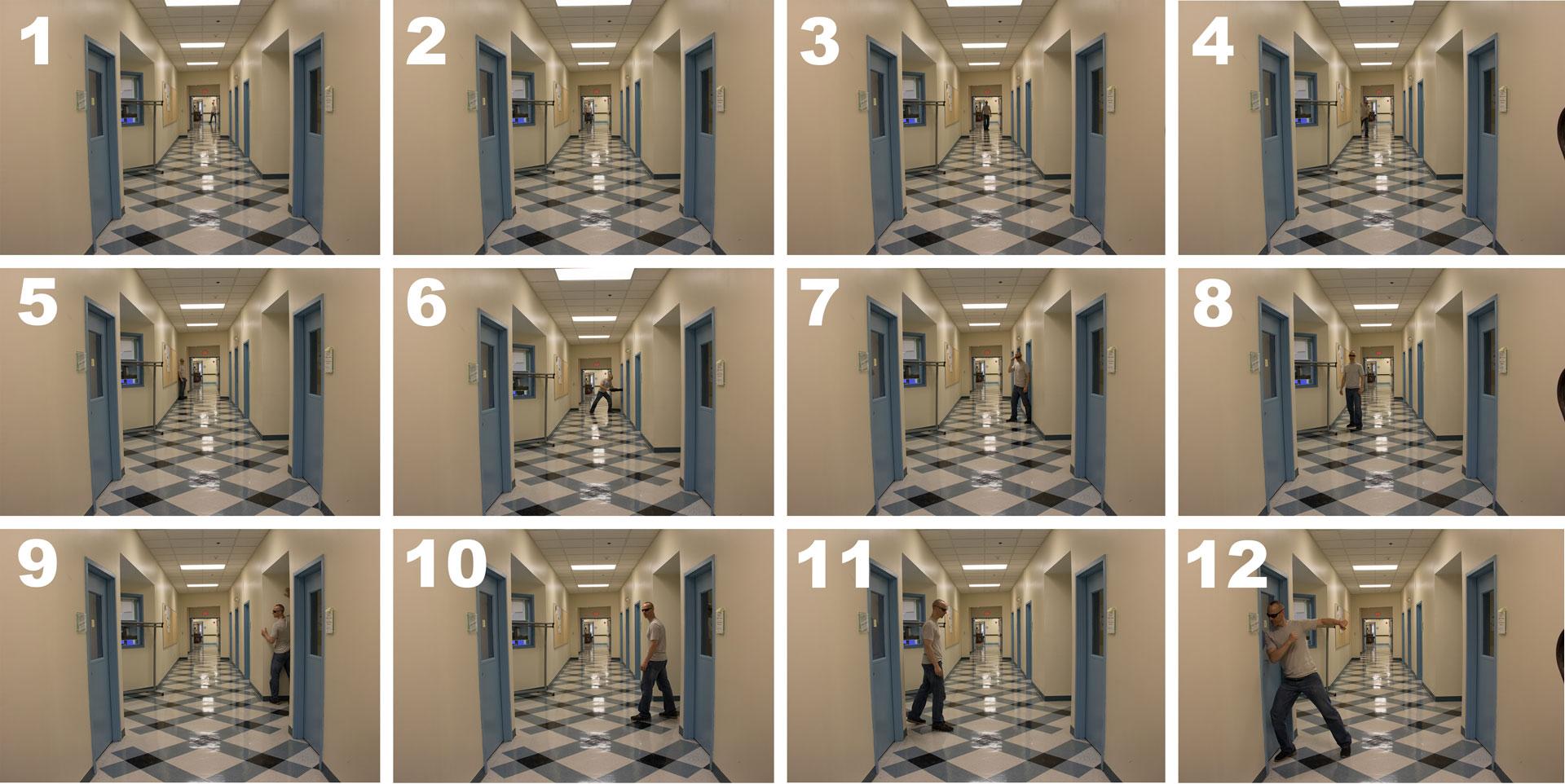 After photographing each of these individual scenes where I am seemingly engaged in some no good behavior,  I would combine them together through a detailed manual process of layering and masking, adding only the wanted parts to the final scene. Because I chose to have 12 clones in the one picture the process took several hours to complete. The end result produced is a composite showing all instances of me together.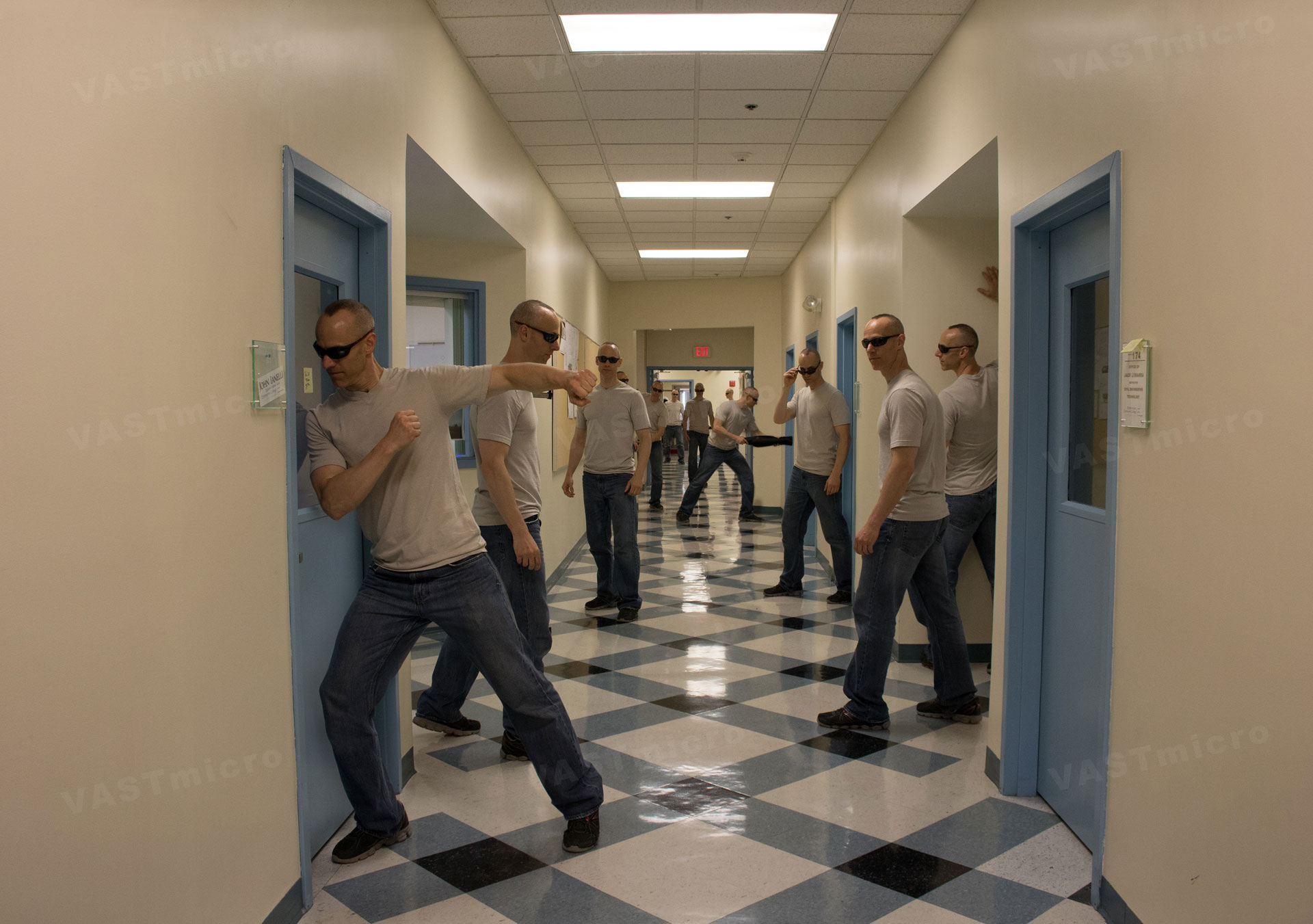 Once I have a composite it can be tweaked and modified just like a single photo. We can give it a cool tone to look similar to some sci-fi films.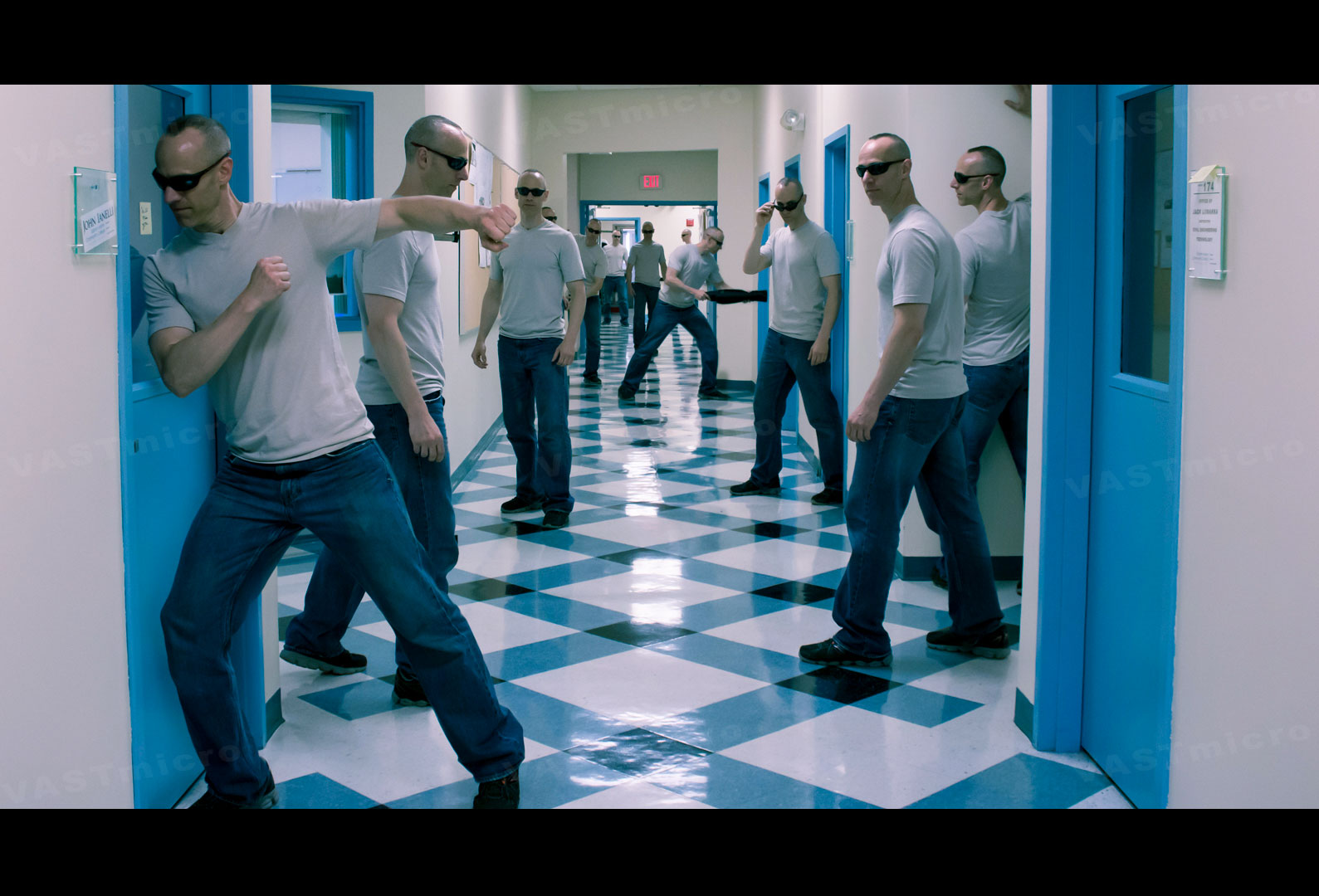 Or go for a darker more warm tone and add dramatic feel.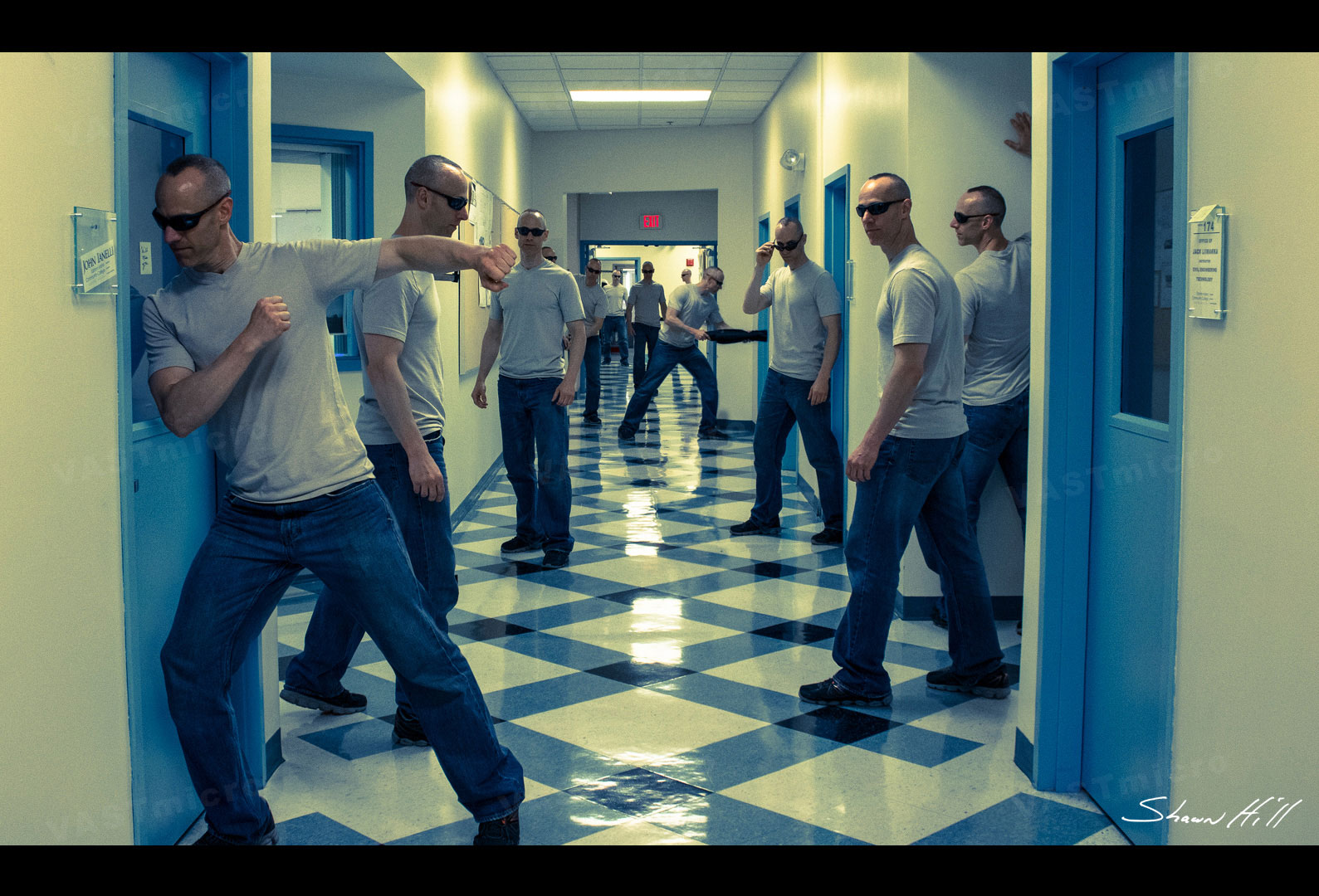 Occasionally, a concept is just not going to happen with photographs alone, and that's where we start working with illustrations and digital art. This helps us cross the boundary of reality into the world of imagination.  The example below is a scene I created from four photographs and a bit of digital art I made with Photoshop.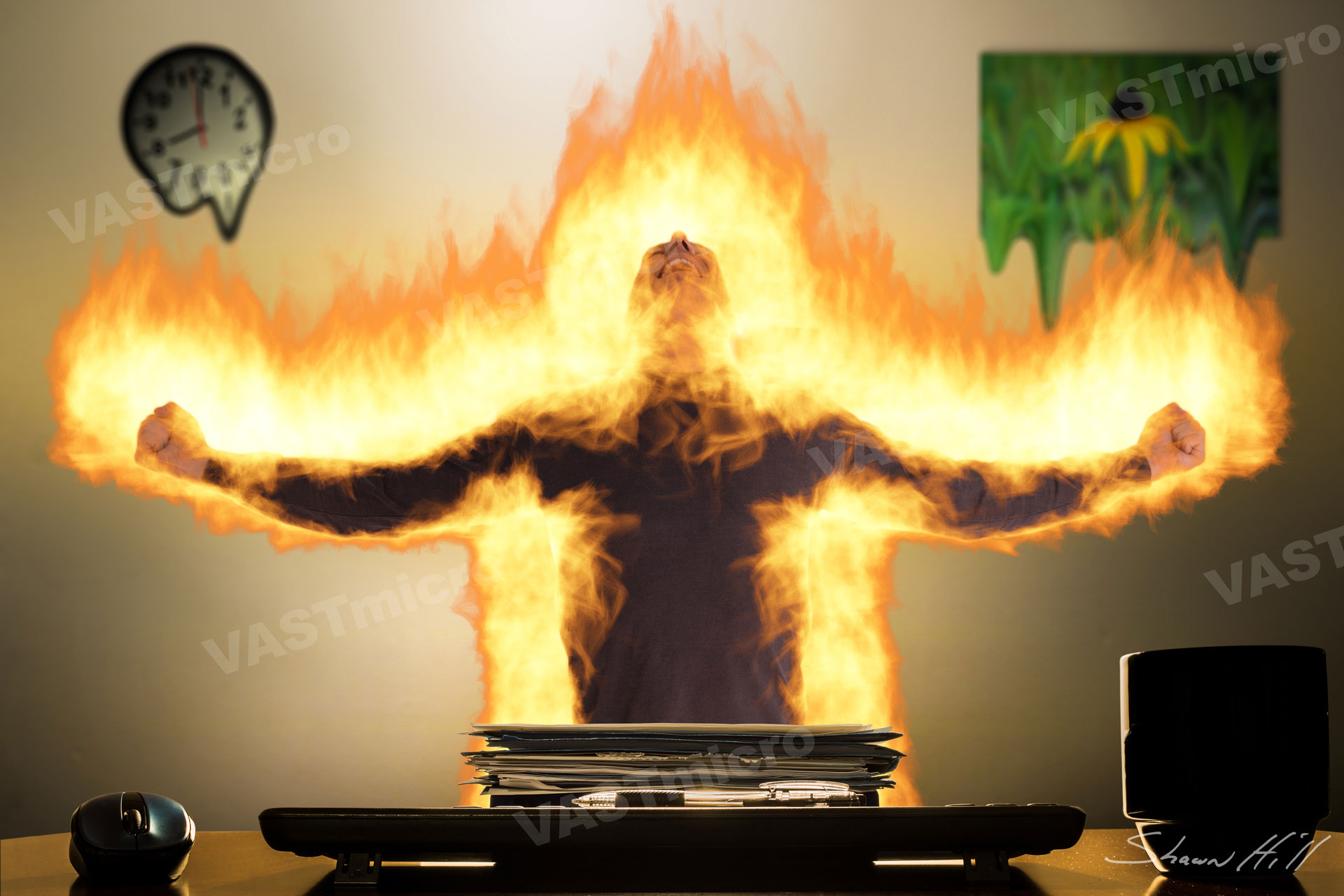 The intention was to depict a person so utterly infuriated that they burst into flames, melting the wall clock and painting behind them. This concept would be impossible to do "SAFELY" with just photographs.  
Here's another example of digital art combined with a real photograph to show a concept of futuristic technology in use. Or is it futuristic? Maybe we have something like this already. If so I want one!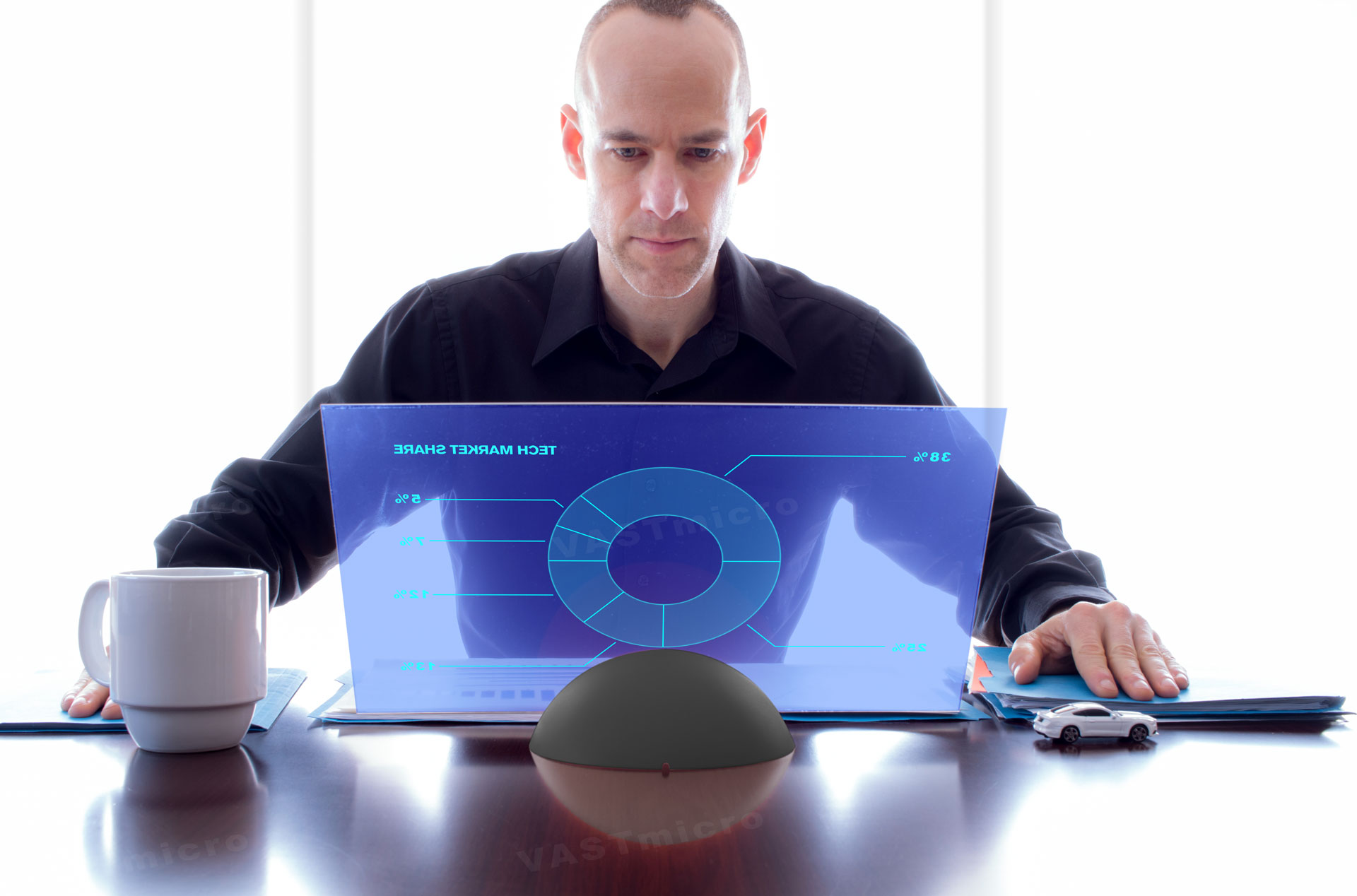 A custom graphic can take a fair amount of time to produce depending on it's complexity or it can be a short process when the concept allows it. I've had graphics take 5 minutes to complete and some that take multiple days. It's all about the small details and truly is an art. If you have any questions or would like to enlist my services call 207-745-7380 to discuss your idea.
You can also check my current stock photo portfolio and see if anything I have placed there suites your needs. Right now I am found on dreamstime and will have images on Shutterstock as well as iStock soon.  

Current Rates
Graphic Design = Billed at $50 per hour + final license fee
Photography Onsite (On Location) = Billed at $100 per hour + final license fee per photo
Photography Offsite (In House) = Billed at $50 per hour + final license fee per photo